PSC team members are high school students and undergraduate students who participate in pulsar research alongside professional astronomers.. Members are generally part of teams led by a teacher, professor, grad student or advanced undergrad. All new members participate in an online course that teaches them about pulsar science and radio astronomy and prepares them to become competent researchers. The course is led by world renowned astronomers Dr. Maura McLaughlin and Duncan Lorimer. Once trained, PSC team members gain access to radio astronomy data taken at the giant Green Bank Telescope.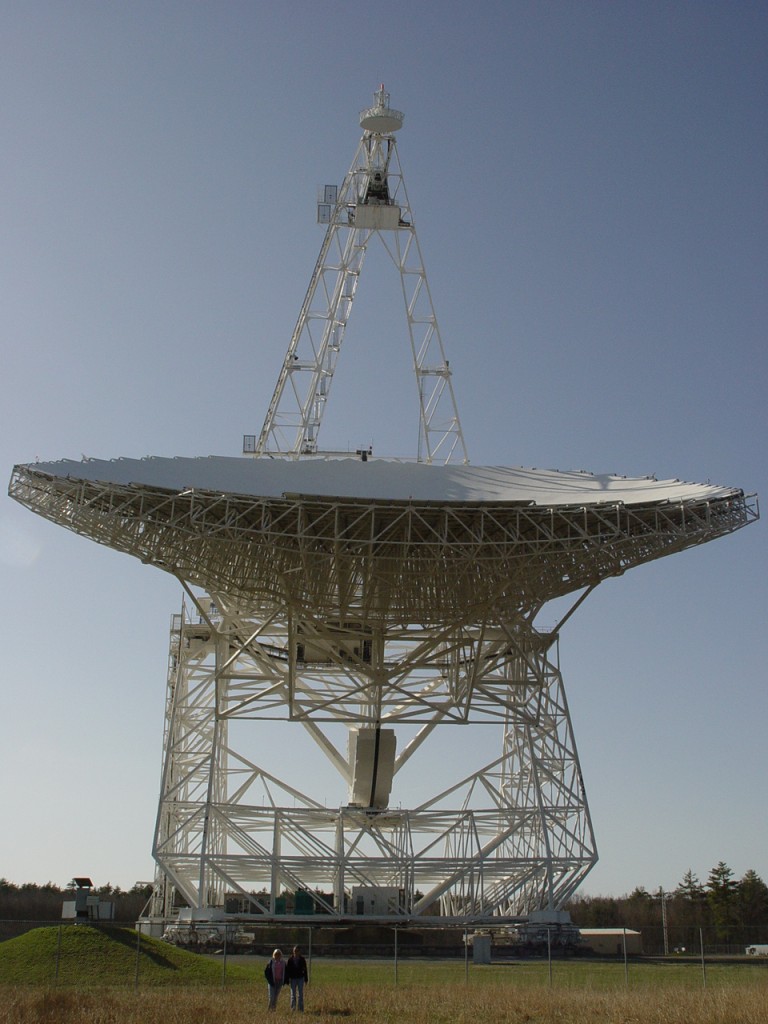 The Green Bank Telescope. Photo by Kevin Evans
At 17 million pounds in weight with a dish big enough to hold two football fields, the Green Bank Telescope is truly Impressive. It is one of the most sensitive instruments in the world and great at collecting and amplifying the tiny signals we receive from pulsars.
Pulsar astronomy is a BIG Data science. Just 2.5 minutes of observing with the GBT results in 3 gigabytes of data. Therefore, the data PSC team members analyze is new– and has not been analyzed by other scientists. Careful PSC members can make new and significant scientific discoveries, and be authors on published papers as the ones shown here.
To participate, all PSC team members must be 13 years old or older and be sponsored by a High School teacher or other team leader. PSC members complete a training course to become certified to gain access to GBT data. It is not mandatory that team leaders participate in PSC training, but it is highly encouraged. At a minimum we do expect team leaders who are High School teachers to gain permission from your school to participate in the PSC, to activate you once you register, to collect consent forms, and to keep an eye on your progress. Ask your team leader to complete the application!
After your team leader has registered and activated his/her school account, she/he will create a team for you, and you can register.
The database, accessed by clicking on PSC Search in main menu bar, is where your data lives. You will go there to register, choose your team and a user name etc. Once you register and your team leader activates your account – you will use your username and password to access the main site and the database.
Then it's time to learn! To prepare to engage in pulsar research with us you will register for and complete a 6 session "course". Visit the PSC Training link to learn more.
You can earn College Credit as well! Check out the PSC_syllabus_2018
Quick Links
How to Register
Your Pulsar Search Dashboard
Published PSC Papers
PSC Pulsar Discoveries
Poster template (download)
PSC College Course